It should come as no surprise that classic animated cartoons should feature cartoon versions of the movie stars of the day. The animators frequently looked off of live-action film when animating, and often they were looking at comedy shorts.Here are some notes from Michael Sporn's blog on a Disney analysis of the action in reel one of BUM VOYAGE from 1934, starring Thelma Todd and Patsy Kelly.
These are the notes from the Disney studio's April 5th, 1937 after hours class.
Don Graham conducted the session which studied the motions of the characters in the film. This story involved both a real gorilla and a gorilla impersonation by Patsy Kelly.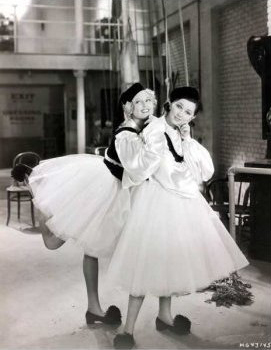 Those who participated in the lecture include: Izzy Klein, Bernie Wolf, Joe Magro, Roy Williams, Eddie Strickland, Stan Quackenbush, Jacques Roberts, Chuck Couch and Jack Hannah.
The letter "e" here looks like "o" in places. Old manual typewriters frequently gave this effect. "Pete" is a reference to the Disney character of "Peg-leg Pete", who frequently menaced Mickey Mouse.
Donald Duck's first appearance was in 1934. He was given his own series in 1937.
Mention is made of a man with one leg, presumably because of the already mentioned Peg-leg Pete. The "dwarfs" of course were the ones with Snow White, which they evidently were working on at the time. It would be released the same year,
The idea is that a girl dressing up in a gorilla costume is outlandish, but Marlene Dietrich had already done it in BLONDE VENUS.
The name "Toto" used in this film for the gorilla comes from a famous clown who at one time worked for Hal Roach. Patsy Kelly made a reference to Toto the Clown when she said the people at the Roach studio must have had her confused with him because of the physical stunts they expected her to do in the movies.
The "treadmill effect" refers to the effect you get from running on a treadmill and seemingly running in place in the finished film. You can see this treadmill in use in the Zasu Pitts and Thelma Todd films RED NOSES ( 1932 ) and MAIDS A LA MODE ( 1933 ).
And here we see Thelma Todd being the trainer and Patsy Kelly being the gorilla.
Reblogged from Michael Sporn's site
http://www.michaelspornanimation.com/splog/?m=201203